Did you know that there are 3 Different Ways of Buying and Selling Bitcoin on Binance P2P?
Well, if you don't know no worries because that is what I'll be walking you through step by step in this blog post
Quick one,
There are lots of rumors out there that the Federal Government of Nigeria banned cryptocurrency
That's not true
The government of Nigeria has never place a ban on cryptocurrency or even have a document that declare it illegal
What happened sometime last year was CBN restricting banks and other financial institutions in the country to stop having direct dealings with cryptocurrencies platforms
That is because before the CBN ban, it was easier to buy bitcoin with your ATM or bank transfer and if you want to withdraw your crypto to you bank account it easily done via the crypto exchanges you you use
Now after the ban, the only way we can buy and sell crypto to our bank account is via P2P which is what I'll be showing you in this post and on Binance p2p there are 3 Ways of Buying and Selling Bitcoin or any other crypto of your choice as highlighted below
3 Ways of Buying and Selling Bitcoin on Binance P2P
P2P trading
Express trading
Block trading
If you don't have a Binance account, you can click here to sign up for an account
To access the Binance p2p page all you need is login to your account on the web and over over buy crypto and click p2p trading as shown in the image below, I'll be using the web version to demonstrate this and if you understand it you can do this on the app as well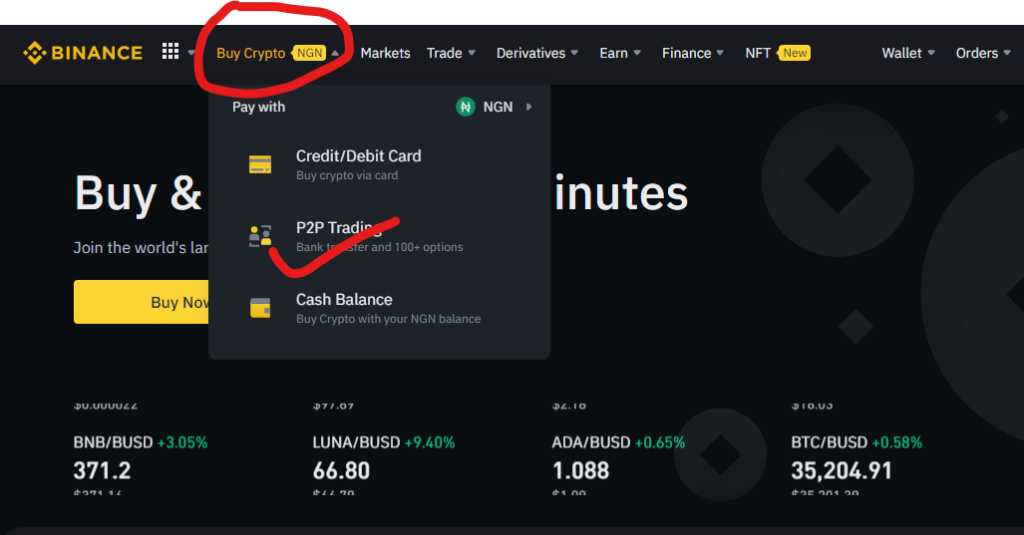 Once you're on the p2p trading page you'll see at the top left conner Express, P2P and Block menu which is what we're discussing here. The highlight on the image below shows you that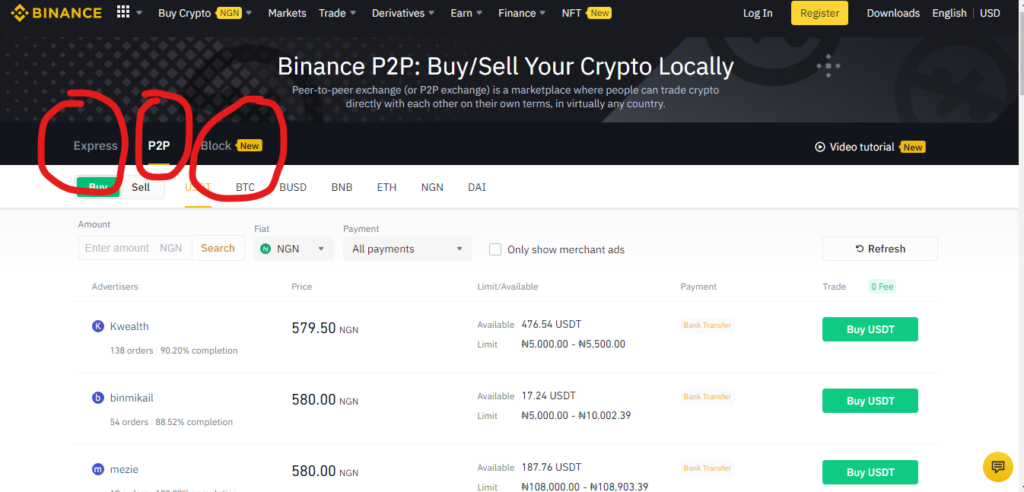 We'll start with the express and proceed in that other
Express Trading on Binance P2P
The express trading option is the easiest way as the name implies to use the bianace p2p trading
What the express simply does using it is that binance automatically matches your offer with the best price and available buyer if you're selling and seller if you're buying in the market
With the Binance P2P express trading, you don't need to worry about your limit and the trader to buy from or sell to because everything is handled automatically my Binance
So, once you click on the express menu, you'll be giving option to enter the amount you want to buy and then click on green button that says buy with zero fee as shown below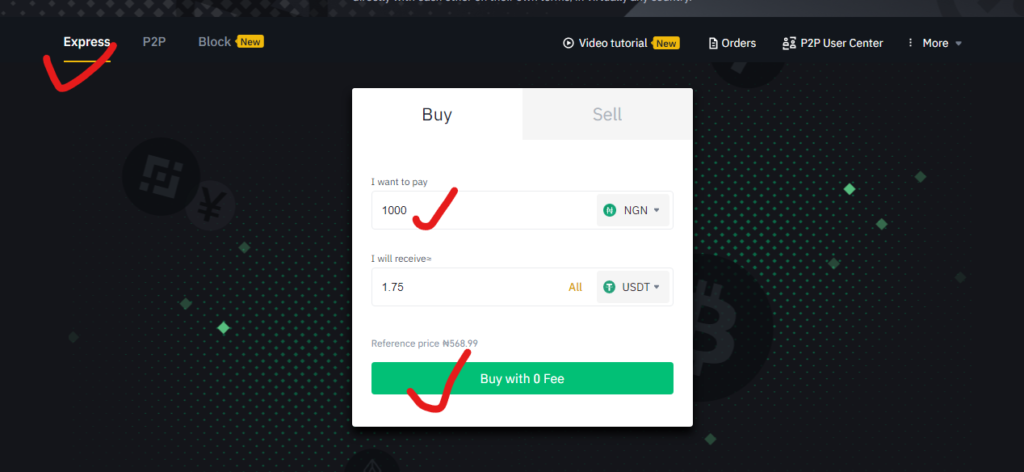 By default when you're on the express buy page the asset to receive will be in USDT, you can click on the arrow beside the USDT to change to bitcoin or any other crypto of your choice as you can see on the dropdown.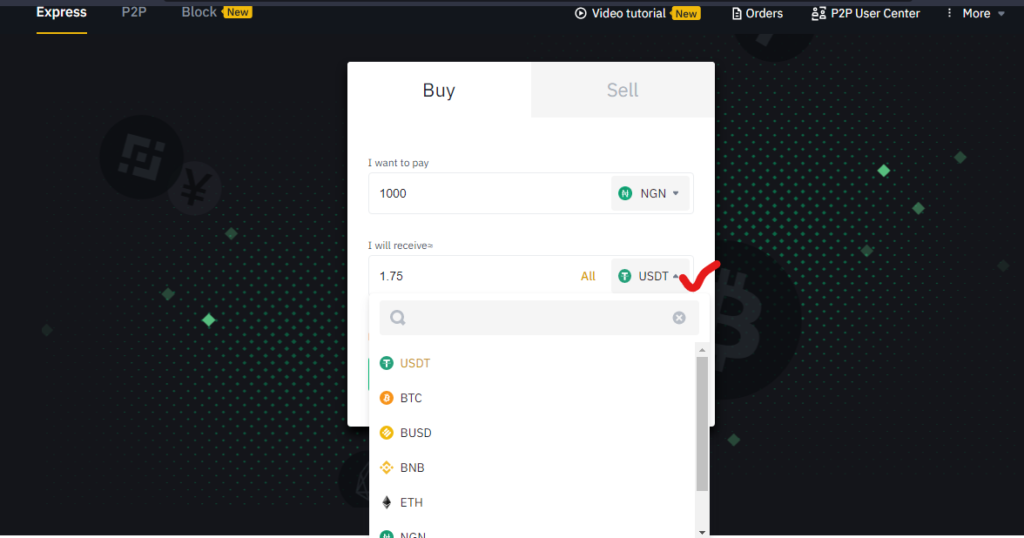 After selecting your asset to buy and entering the amount you want to purchase click the buy button and on the next page you'll see summary of your transaction, if you're ok with it click on the confirm purchase button to proceed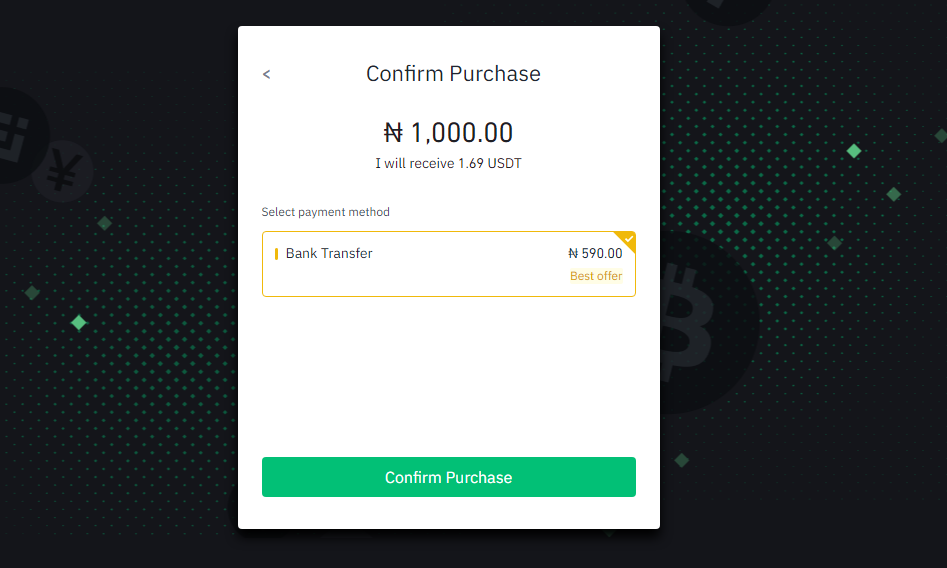 On the next page you'll find details of the trader and his or her account details go ahead and make payment and after making payment click the yellow button that says transfered notify seller as shown below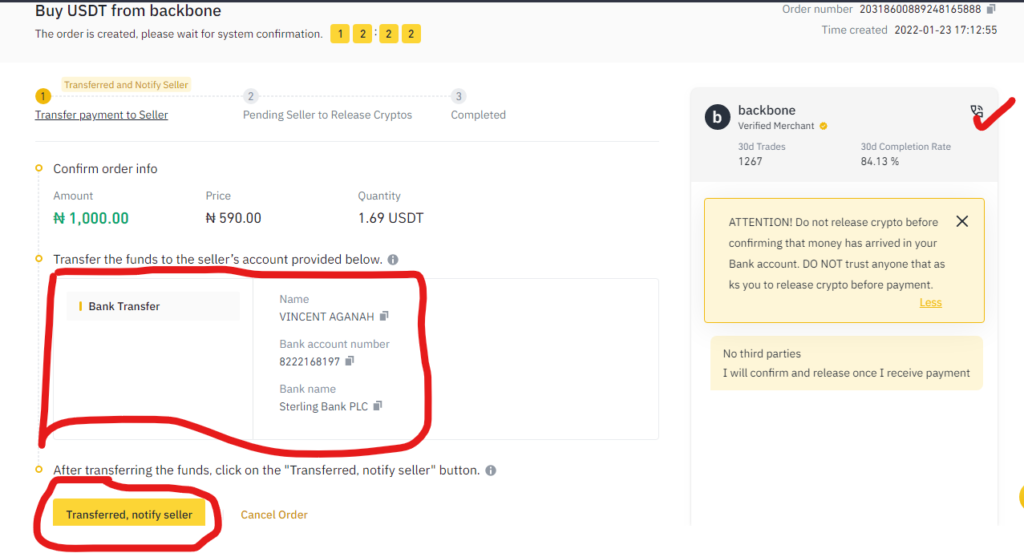 The system gives you 15 minutes to make payment, make sure you meet up within that time frame if not the other will automatically be cancelled
As you can see, it is very easy using the binance p2p express trading
P2P Trading on Binance P2p
Using the p2p option is more of manual means as against the express where Binance handles everything for you
So to use this option all we need do is click on p2p and as you can see the interface is a bit different from the express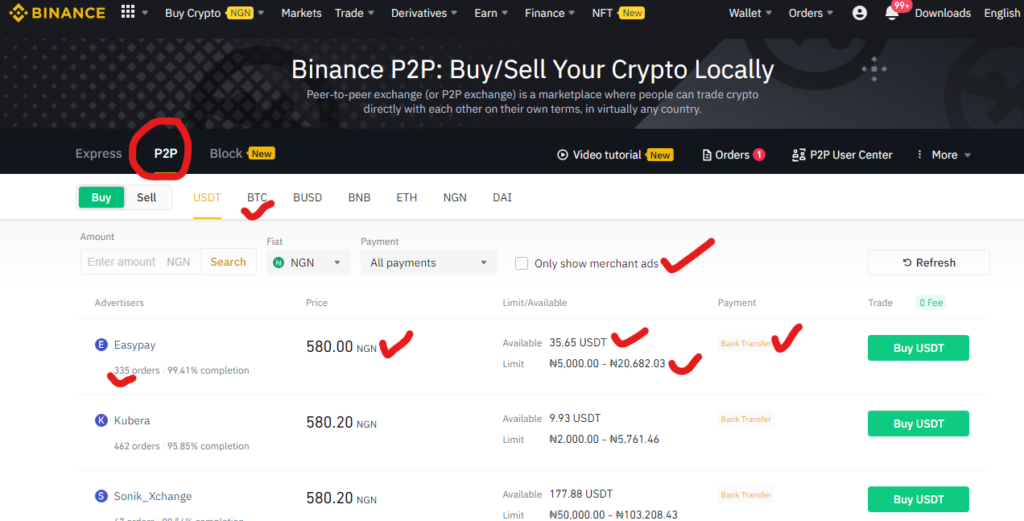 On the p2p trading page first select the asset you want to buy whether USDT, BTC, BUSD or any other asset of your choice and make sure you have show ads from merchants only checked to show you ads from only verified merchants from Binance
As shown in the image above, every details about a particular trader is displayed, you can see the price the trader is ready to sell, the limit, payment method, the number of trades that trader has carried out and others
Just look for a trader that meets up what you want and if you find one, click the buy button to proceed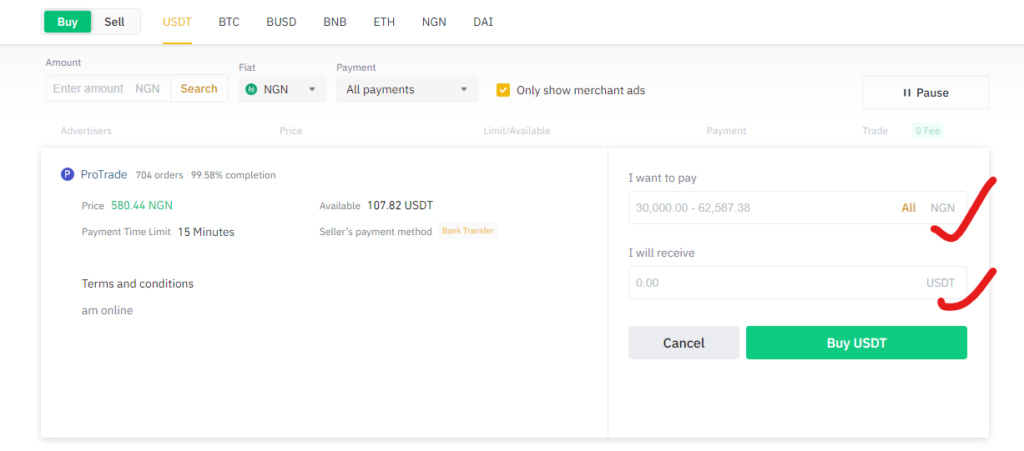 Once you click the buy button, enter the amount you want to buy and then you'll see the equivalent of what you'll receive and click the buy button again
The next page displays the account details of the trader where you can make payment to as shown below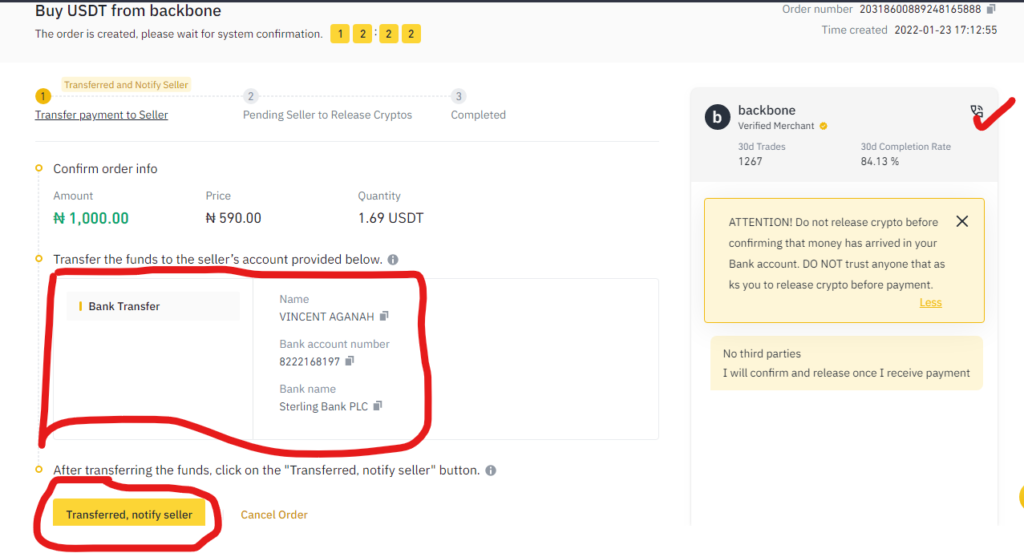 Once you finish making payment click the yellow button Transferred, notify seller
And there you are, you've successfully bought crypto with Binance p2p trading
Block Trading on Binance P2P
The block trading option is a new feature recently added on the binance p2p trading platform
Majorly the block trading zone is meant for those who want to sell or buy crypto in large quantity
Why Block Trade?
Using the block trade option helps you to avoid slippage, slippage in the crypto parlance is when you receive a market price that is different than intended as a result of selling a large amount of crypto in one market order on an exchange.
Using the block trade via the p2p helps a lot because you don't pay fees
Block trading is very fast safe means of selling your crypto and you sell at your own price with your preferred payment method
For large amount traders that is anything from 5 million upward, I recommend block trading for security reasons
To block trade just click on the block trade menu and you're go to go. The image below tells the remaining part of the story

Once you're on the block trading page, select either to buy or sell, select the asset you want, you'll see the prices, the limit and the payment method
If you're satisfied with any go ahead make payment
There you are
You now know how to use Binance Express, P2P and Block trading via the Binance P2P trading platform
If you have any question, leave a comment below
YOU"LL ALSO LOVE TO READ: HOW TO TRADE CRYPTOCURRENCY